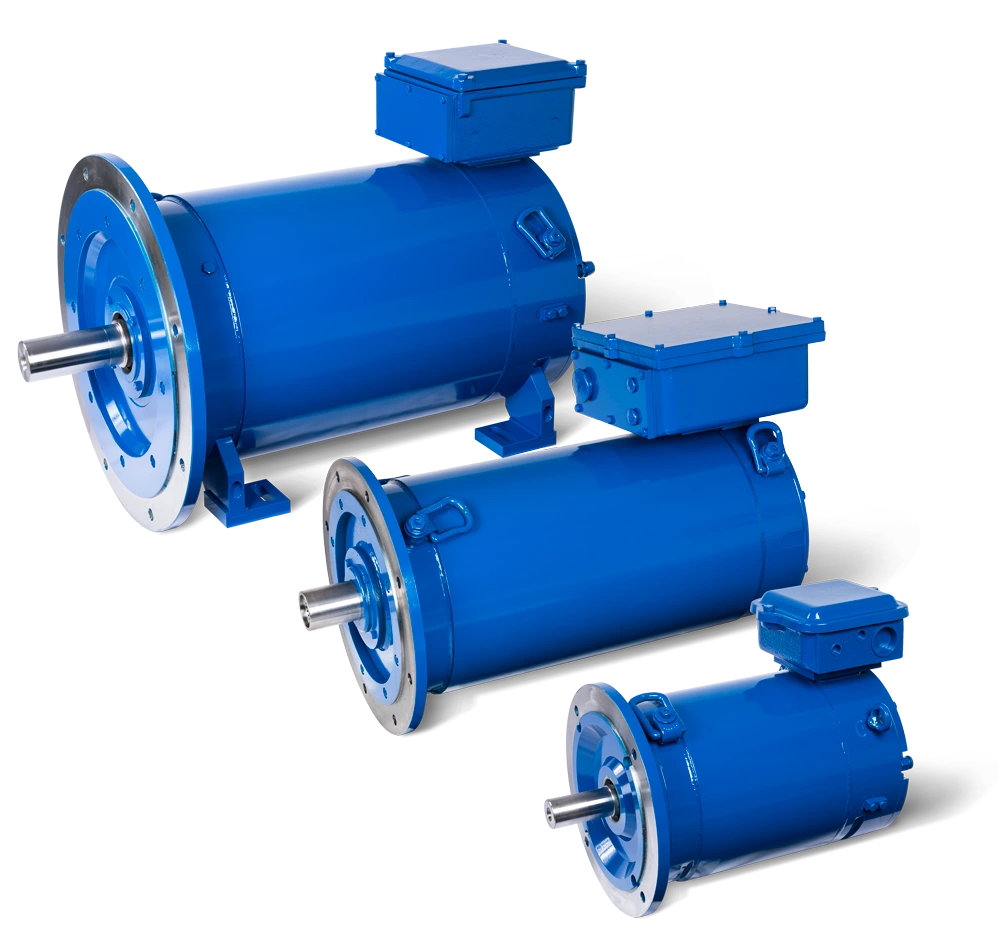 Watercooled motors
Our water-cooled motors – a clear benefit for You
In comparison with an air-cooled motor, the same performance can be achieved for smaller construction spaces without problems. By default, this is achieved for the efficiency class IE3 (S1). With our WD model range, you can achieve significant reductions of the footprint on people and the environment through noise emissions and heat dissipation. As opposed to air-cooled motors, water-cooled motors do not cause swirling of dust or dirt, making them the ideal solution for hygienically critical areas.
Robust and Suitable for Multiple Uses
The longevity and reliability of our motors has gained a worldwide reputation, including our current water-cooled generation. The robust and enduring steel construction is suitable even for the most challenging conditions such as sea water, salty air and ambient temperatures of up to +60°C. At the same time, they can also withstand the toughest conditions in continental heavy industry. Using the stained-steel option, our WD model range can also be used in the food industry or in sectors with aggressive media coverage without causing risks.
Using high-quality, application-sensitive seals and sealants we can achieve protection levels according to IP56/66 and IP67 without compromising performance. Using special care in the selection process and the application of the paint we can guarantee that BEN motors can reliably withstand any weather or environmental conditions.
As Specific as your Requirements
The unique design of the enclosing assemblies allows customisation of the motors according to your requirements and space conditions. Using the unique and variable multi-foot attachment and the thus adjustable position of the attachment casing, the shape of the construction can be modified any time, including on your premises.
The coolant supply openings are located on the non-driving side to allow for problem-free modification. By allowing for flexible adjustment of the casing length sizes, the performance range is from 0.75kW to 250kW with currents up to 690V, for operating modes of S1-S9. It does not make a difference whether your motor is then operated at 50/60Hz or using a frequency converter: All our motors are tailored to our customers' requirements.
Similarly, we can fit them with optional equipment according to your requirements. Whether it is an added brake, a rotary encoder or non-return device, space heating system, stock controlling or power-insulated storage: The optional combinations of all additional equipment are almost unlimited.
Power
up to 350 kW
Voltage
up to 690 V
Frequenzy
50 or 60 Hz
(or according customer´s specifications)
Protection class
up to IP67
Mounting
B5 or B3
or acc. customer's request
Cooling method

IC71W and others acc. to DIN EN 60034-6

Energy efficiency class

IE3 (standardmäßig)
tropical and humidity insulation
thermal monitoring device, stand still heater
brakes, encoders, special mounting dimensions
suitable for operation on frequency inverter
low noise level design
strengthened /current insulated bearing
ready for usage running in oil
thermal/mechanical monitoring devices
Fields of use for our watercooled motors
Challenge us! Our sales team is looking forward to meeting you.